Online Content Development
VIEW BLOG POSTS AND ARTICLES WRITTEN BY ME
Graphic Design and Marketing
VIEW PRODUCT CATALOG DESIGNED BY ME
Intuitive and Modern Website Design
Listed below are a few choice screenshots of website and graphic design work for HEALTHandMED. HEALTHandMED specializes in selling natural health products, so it was important to deliver an intuitive, fresh, vibrant layout that worked without compromise on smartphones, tablets, PCs, or any other device.
The website is a progressive web application (PWA) that features a responsive layout, intuitive scroll and cart functionality, a fixed header, and even a "click to chat" function.
I began working with HEALTHandMED in January 2016 to deliver web design, SEO, graphic design, video editing, and social network marketing for the company. I worked with Magento starting out, since the company was already on the platform. What follows are designs that I specifically developed for the company as it decided to swap platforms with the changing marketing climate.
WooCommerce and WordPress Website Design
Time Period of Design Use: 2017 to 2019
Platform: WordPress / WooCommerce
View Interactive Archived Version Powered by The WayBack Machine*
*Please note, content may not appear exactly as intended. I have no control over archived content availability via archive.org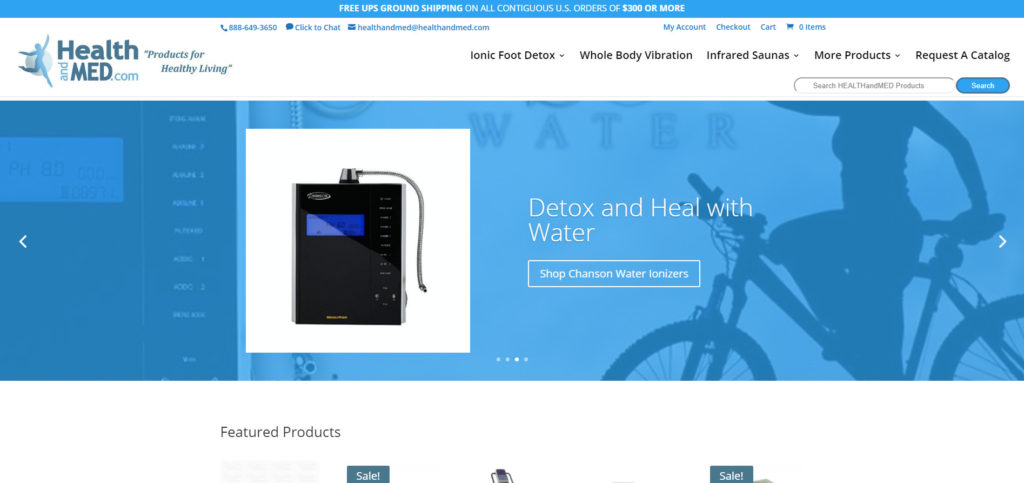 Shopify eCommerce Website Design
Time Period of Design Use: 2019 to Present
Platform: Shopify
The first thing customers see when they visit HEALTHandMED.com is a large, clean Hero display that focuses on the company's three most popular products, Ionic Foot Detox, Whole Body Vibration, and Infrared Saunas. Based on the Narrative theme offered through Shopify the Liquid-based website utilizes a combination of JavaScript, CSS3, and HTML5 to deliver the fastest and smoothest experience possible. The site looks good and loads quickly — both very important for providing not only the best experience for customers, but for search engine optimizations and high Google and Bing ranking as well.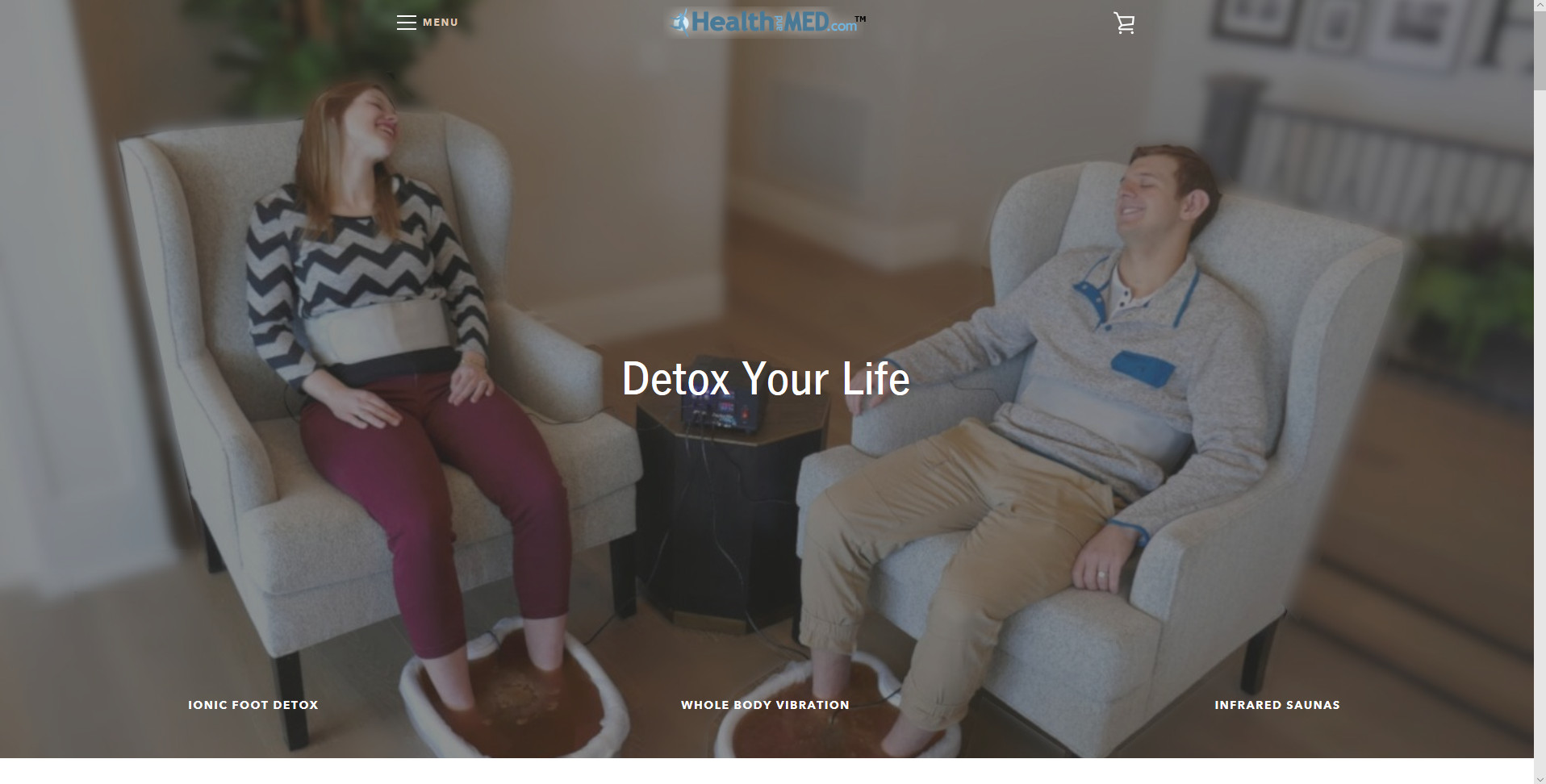 Scrolling down the page reveals a non-persistent header that is revealed again when scrolling back up. This allows distraction-free browsing of the website contents. There's a product-exclusive search bar for easy navigation, a special section for digital gift cards, and a featured products section so customers can immediately see what the website is offering.
To make navigation even easier for customers, there's a Browse By Category section specifically targeted at the main product categories offered through the website. Clicking on each option takes the customer to the collection / category page where they can immediately purchase.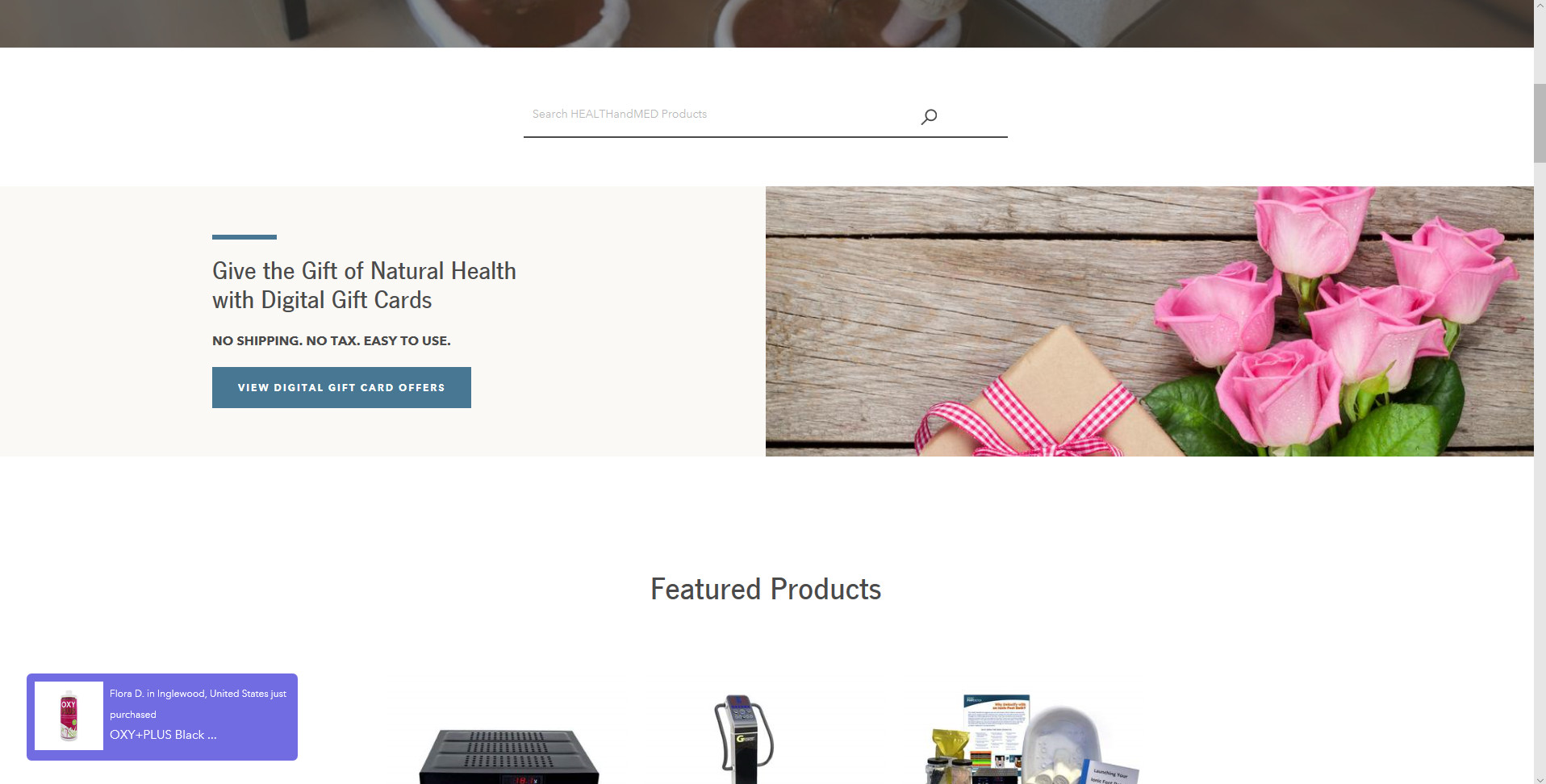 Trust is one of the most important parts of any online store, and the home page needs to convey this trust in a pleasing and effective manner. As you can see, this is accomplished through the intuitive use of Customer Testimonials, which cycle through on the website every 5 to 10 seconds, a blog for finding out more information, and featured topics to spotlight important things customers need to know.
Product pages are often the first things customers see when they pull up an eCommerce website, so it's important to make sure they're straightforward and easy to use. This is accomplished on HEALTHandMED through the use of color and large, easy to see button and drop-down options. When clicked on, images open a lightbox photo gallery so customers on both desktop and mobile devices can see products at every single angle. Alternatively a video or 3D image can be used in place of individual photos. There are also easy-to-see tabs that brighten when active and darken when they're not selected.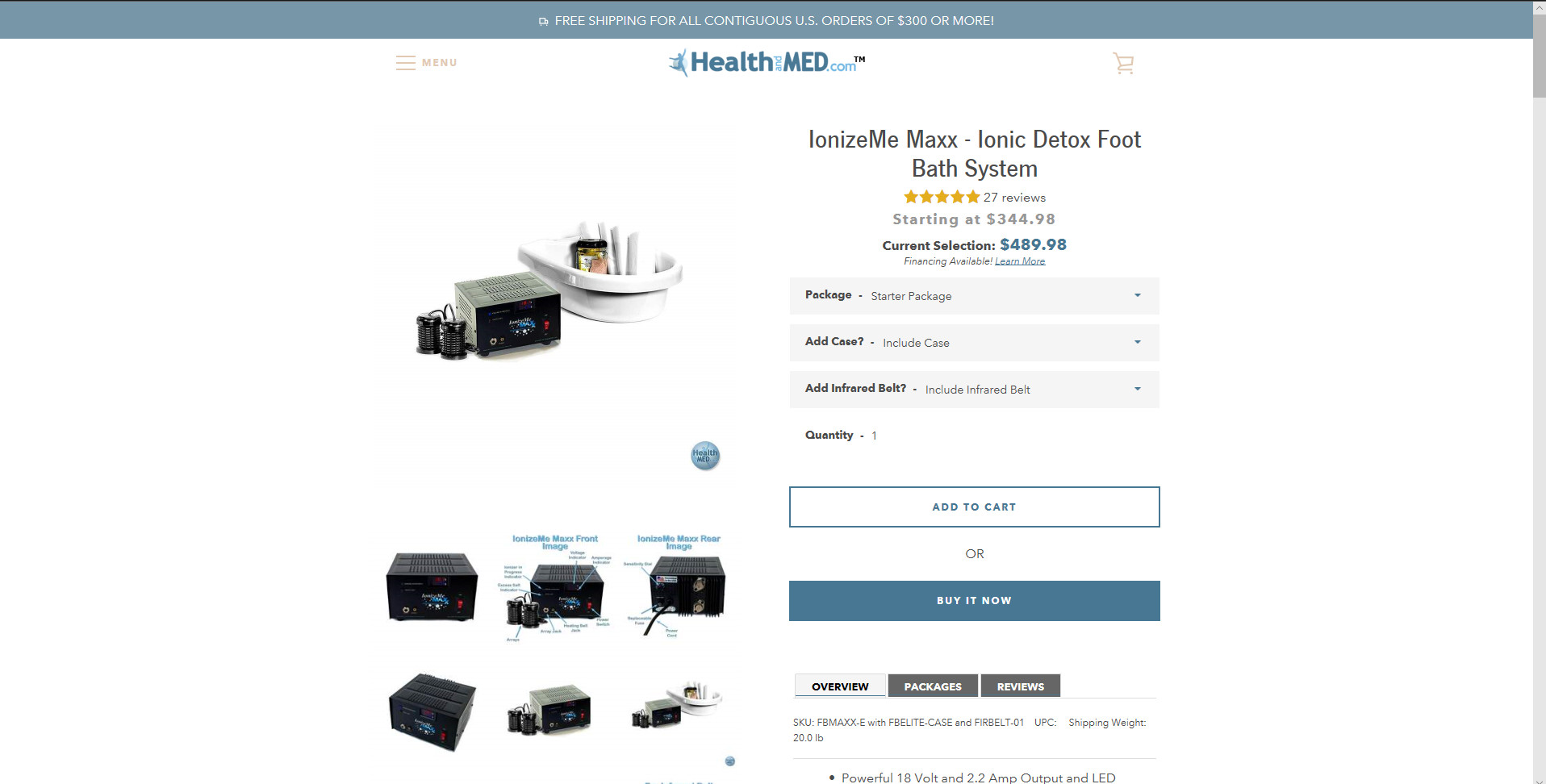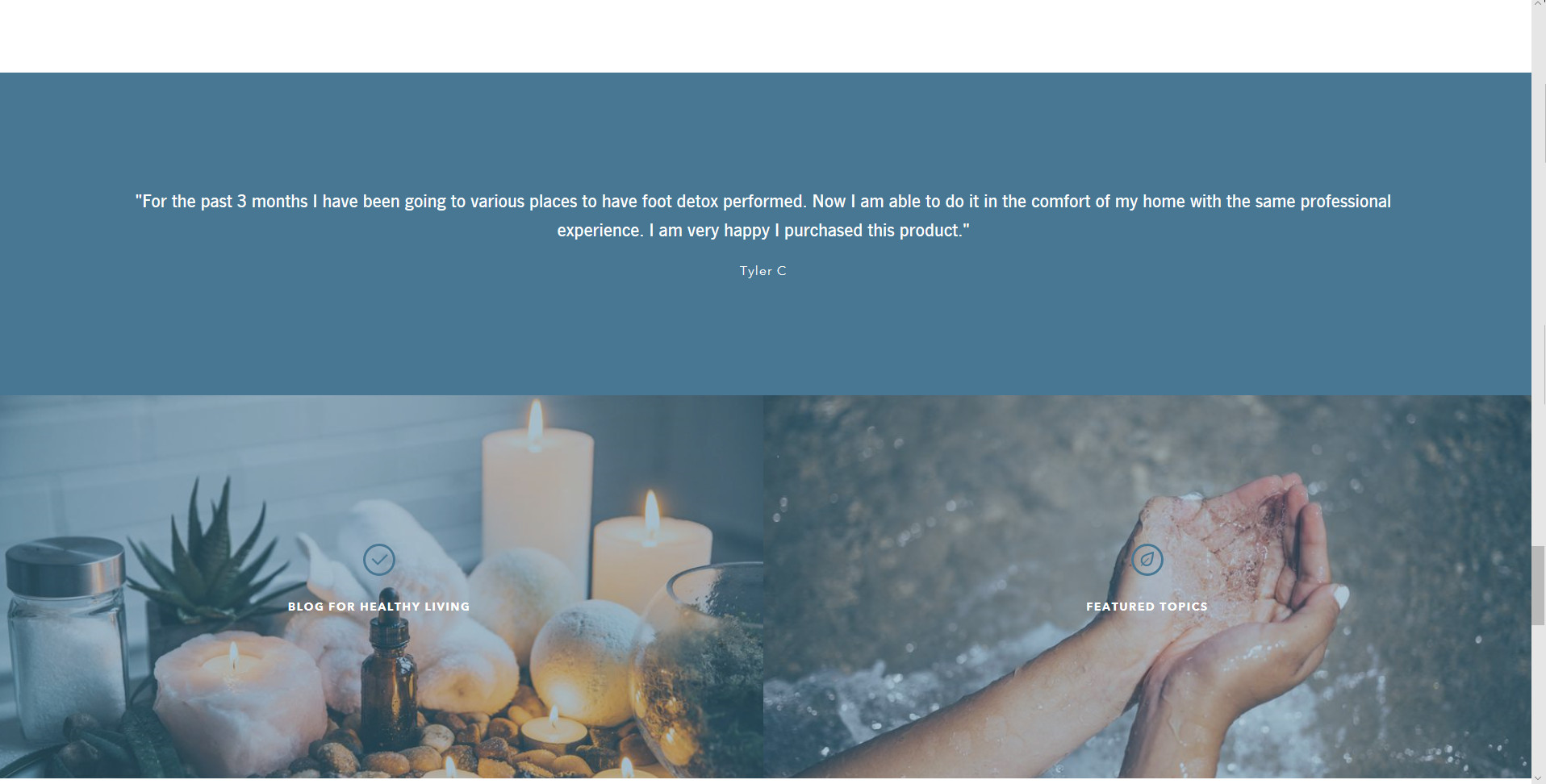 Just because it's at the very bottom of the website doesn't mean a footer isn't important. After all, it's the best place to put important links like contact and about pages, blogs, social networks, and credit card payment options. As you can see, these are all present alongside important security buttons to make sure customers know they and their information are secure.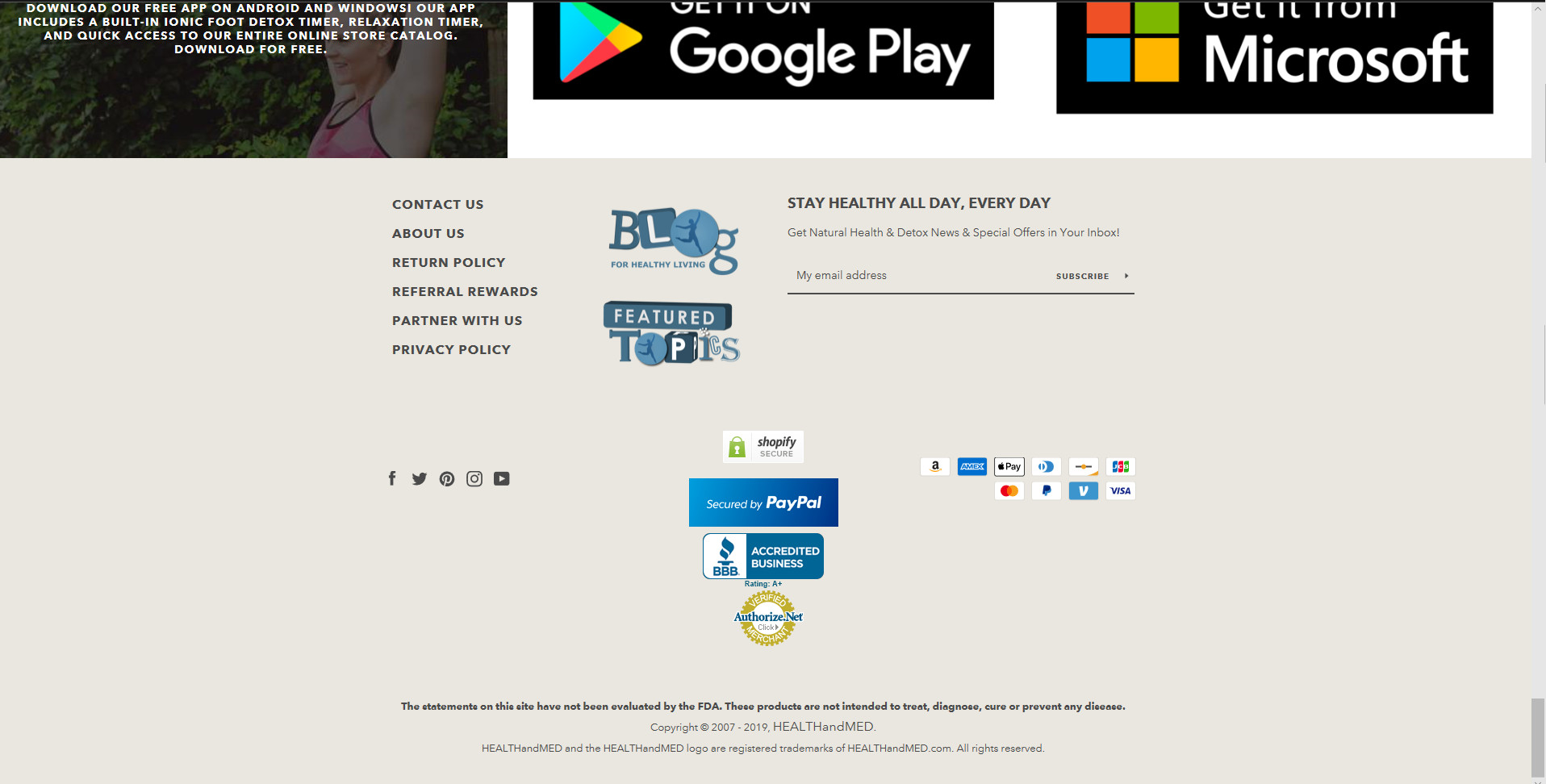 HEALTHandMED still uses the Shopify design I created and featured above as of January 2021. Contact me to join my growing list of satisfied clients!