Working with me means more than just web design. You'll also have 24/7 access to professional social networking and advertising that will help you grow your business, phone consultations, and SEO (search engine optimization) that goes beyond high-quality backlinks. You need and deserve the very best to make your business more competitive. You want people to view your site before the millions of other websites already on the internet.
Years in Web Design: 17
Approximate Number of Pages Designed: 6,000
Percentage of Happy Clients: 100
If you're a first-time designer or businessperson, working with me means you don't have to make the same mistakes that most beginners do – you partner with someone who's been through the design, marketing, and social networking process countless times and can apply collective knowledge to your business or project.
Working with me means you can get a site created without limits. Professionally-designed websites can be customized infinitely to accommodate your specific needs. A website is a long-term investment that you want as good as it can possibly get, right from the beginning of your business. The same holds true for personal online projects.
Working with me means less of your time is spent updating your website yourself. Your time is money, especially if your business is doing well or if you're running on deadlines.
Working with me means intentionality throughout the process. Obviously if you're just starting, you might default to whatever is easiest, which can make it more difficult for your website to establish itself over time. Not so if you hire someone that has been through this process many times. I'll make sure the design and development serves to build your rank, your public profile, and your brand.
Rated Among Top 70 Best Web Design and Marketing Agencies in Utah
SEOlium rated Josh Robert Nay 63rd among thousands of web design and marketing agencies in the state of Utah!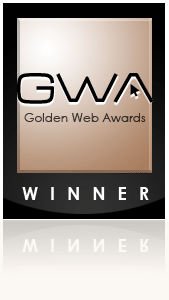 Award Winning Website Design
JoshRobertNay.com was a Golden Web Award recipient in October 2017 for "web design, originality and content" and for achieving high "levels of excellence deserving of recognition." The Golden Web Awards are Presented by The International Association of Web Masters and Designers.