Josh Robert Nay starts 2021 on a high note as it was ranked #63 among all web design agencies and professional web designers in Utah, based on a web-design market-share analysis conducted by SEOlium.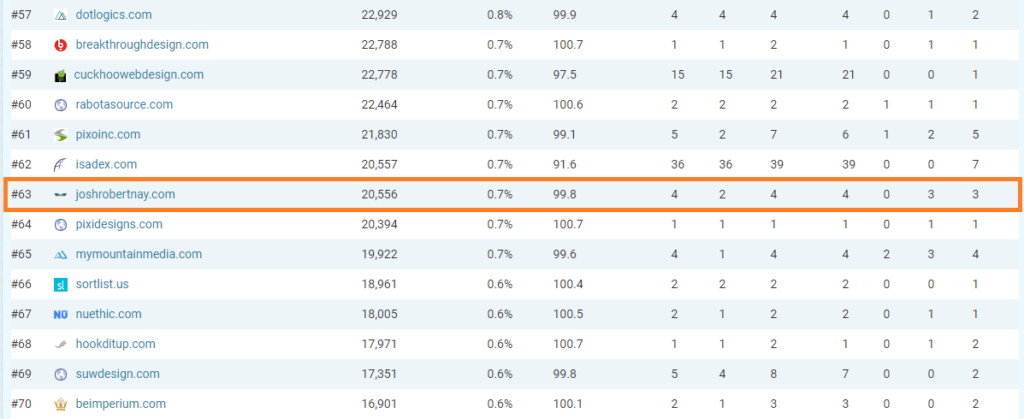 We are truly humbled and excited to be on this list, especially since they used data, not voting or a popularity contest, to determine rankings. In their own words…
"This isn't one of those web design contests where agency owners submit an application and then a jury decides who gets what.
We had a different idea. We asked ourselves: "Who knows what's best for the people of Utah"? That would be Google, of course.
And "Would you trust Google to show you the best web design firm in Utah ranked #1, the second-best ranked #2, and so on?" Yes!
Luckily, SEOlium is a Google Rank Tracker so we googled "web design Utah", "web designer Utah", and "web design agency Utah" from every ZIP-Code in the city and came up with this analysis.
After carefully reviewing 1,308 "candidates" relevant to the 3,043,806 people living in Utah (in 246 cities and 284 zip-codes), we selected the most relevant 133 top web design companies/freelancers for our "Utah Web Design" market-share analysis. Should you need a stunning new WordPress website, web development services, professional web hosting – be sure to pick one from the list below."
We're very proud to receive this designation that reflects our dedication to design and build websites since 2003. Working with JoshRobertNay.com means more than just web design. You also have 24/7 access to professional social networking and advertising that helps you grow your business, phone consultations, and SEO (search engine optimization) that goes beyond simple backlinks — all things that collectively can cost thousands of dollars a month. You need and deserve the very best to make your business more competitive. You want people to view your site before the millions of other websites already on the internet.
Let's connect. Together we can achieve your goals.